"We all have genes. This is a universal issue. It is something that impacts everyone."- Judd Gregg
That "the apple does not fall far from the tree" is always quoted to us each time someone (or even ourselves) is being compared to the parent/s.
That I long wanted to write about this is coincidental with where my conversation with Guilly, my staff, led one morning. We were talking about Kiefer Ravena (from Ateneo de Manila University), and I mentioned that no wonder he was that good, as his parents were also athletes. And Guilly was wondering if being an athlete or a star player at that, for Kiefer was a matter of choice, or something that was forced on him or expected from him. What if he wanted to do something else? What if he or his brother didn't turn out to be sporty? Was he molded to be a basketball player from the beginning?
How about the Teng brothers who are actually better than their father, Alvin? And Team Webb? Did they know early on in their lives that they were going to be playing (excellent) basketball?
Then we talked about Dodot Jaworski, who unfortunately wasn't as good as his dad (in basketball). "Not even close," Guilly said. How about Beckham's three sons? "One of them has to follow his footsteps," I said.
More often than not, when we talk about parents who excel in their own fields and their children, we always say, "Sayang naman kung walang magmamana," as if it's a sin or a shortcoming on the children's part.
But yes, how about if the children choose to be their own selves, to have their own identities? It's still up to them after all to choose what path they want to take, to blaze their own trail, so to speak.
My parents are both accountants, and among us four, only the youngest took up Accountancy and became a CPA as well. I never felt my dad pushing me to become like him (except that he expected me to take up Law like him. Sorry, Papa). Well, for one, I was never good in Math, so I guess, that's the major reason. But I wanted to believe that my folks knew my strengths so they didn't stop me from pursuing writing.
My husband and I are both writers, so there's somewhat an expectation that one of our kids (or even both) would also be a writer someday. Of course I also hoped that my daughter would take up AB, too. But I never asked her to. She wanted to take up Travel Management, and so we supported her. She's on her third year now, and although she isn't joining any writing org, I can see from her blogs that she too has the gift. My son isn't that verbally expressive, but I can see myself in him.
My nephew Dean shows interest and talent in drawing, like his dad (my brother). I think my niece Meg can cook like her mom (my sister) someday.
Our children may or may not be like us. They may or may not follow our footsteps. But as long as they're in the right path, and they're doing their best and loving what they do, it will be all right.
Kiefer, you are surely doing well. And Jeric and Jeron. Good job, guys. Your parents must be truly proud. You're the inspiration behind this blog.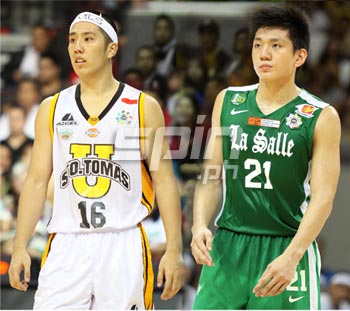 The Clash of the TiTENGs
Acknowledgment:
Photo grabbed from www.spin.ph/sports/basketball/special-reports/its-a-split-decision-for-tengs-in-uaap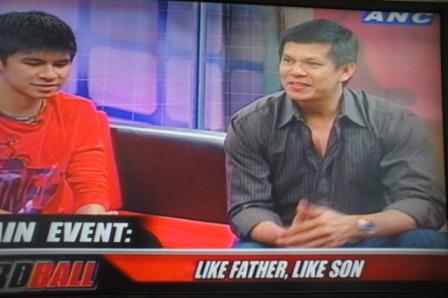 The Ravenas
Acknowledgment:
Photo grabbed from mokidoki.tumblr.com